Operational Structure
Synergy is at our core, and we will continue to spread our wings.
There are three business divisions within the two companies that comprise the Daiwa Kasei Group. The Trading Division exists within Daiwa Fine Chemicals Co., Ltd., and the Research & Development and Manufacturing Divisions exist within Daiwa Fine Chemicals Co., Ltd.
(Laboratory). Speed is a critical requirement for research and development work but the organic relationships among our three divisions allows us to both to faster develop the products and technologies our customers are looking for and to quickly respond to the problems they face.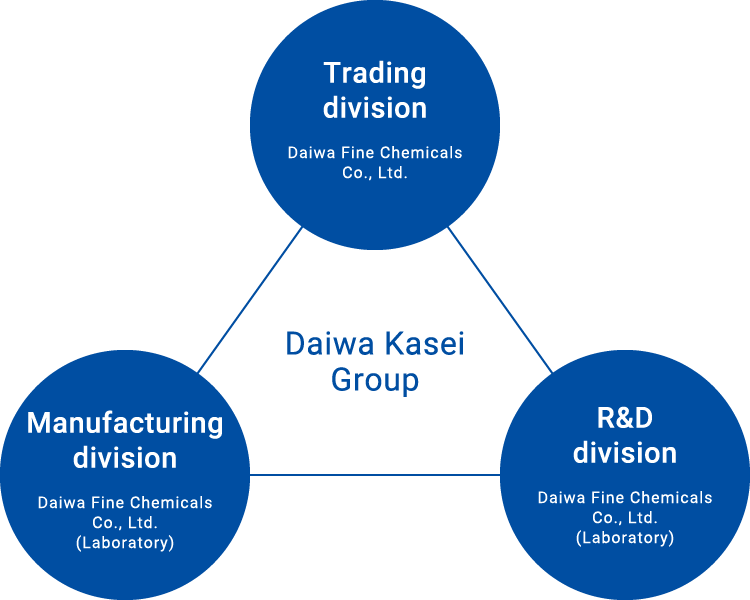 Synergy, for the Daiwa Kasei Group, produces three key strengths.
Rising to the challenge of doing things no one has done before—we develop creative technologies and original products with a desire for innovation.

We ensure our customers are completely satisfied by providing full, integrated service that combines our trading and manufacturing functions.

We rapidly respond, whatever the customer's product development requirements, whether by providing information, creating prototypes, or with other service.
Key Business Areas
There are six product categories that allow our business to contribute
to society in sustainable ways.
At the core of what we do at the Daiwa Kasei Group are three fields of business that build on organic chemistry: surface finishing, fine chemicals, and food materials. From there we have developed a wide range of unique products. We are working across six product categories to offer products and technologies that contribute to a more sustainable society. We use the technology, experience, and knowledge we have developed over the years to consider urgent solutions for urgent issues that include our global environment.